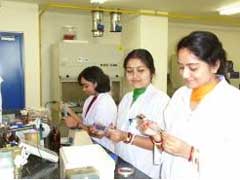 Term: June 2003 to May 2008
Target Region: Kolkata, West Bengal
Executing Agency: NICED
The infant mortality rate is extremely high in India, the top cause of death being acute diarrhea due to bacteria and viruses. In National Health Policy 2002, Indian government has established a target of lowering the infant mortality rate to 30 per thousand by the year 2010.
At a request from the Indian government, Japanese government has begun providing National Institute of Cholera and Enteric Diseases (NICED) with technical cooperation since 1998 toward strengthening and spreading the techniques for fighting diarrhea. NICED bears the primary responsibility against diarrhea in India. The project began in July 2003 with the aim of transferring even more advanced technologies.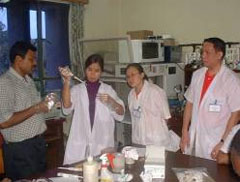 Project Summary
Under the project, Dr. Yoshifumi Takeda (adjunct professor at Okayama University Graduate School and former director of Infectious Disease Surveillance Center) and other prominent infectious disease researchers were dispatched from Japan as specialists along with equipment to provide technical guidance to identify the causes of diarrhea at NICED and to improve analysis techniques. Additionally, Indian participants were welcomed to Japan for training.
In the first phase of this project, the Indian researchers made outstanding advances in identifying the pathogens responsible for diarrhea. During this phase, in-country training and third country training courses have been organized to further disseminate the technology accumulated on Indian side both domestically and into neighboring nations.
Grant Aid: In March 2006, during implementation of this project, a new research wing was completed as a symbol of friendship between Japan and India. Two months later, a commemorative seminar was held and attended by a large number of researchers from India and other nations. A research environment was thus established at the molecular biology level, and technical support has since progressed in a smooth manner.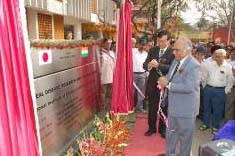 Project Highlights
In June 2008, this project was successfully completed. A solid trust relationship with India, which Dr. Takeda brought through his extensive work in the infectious disease research field for more than a quarter of a century, led to such success in the project. Director General Nirmal Ganguly of Indian Council of Medical Research (ICMR) and successive NICED directors have a strong faith in Japanese researchers, and through this collaborative work with specially selected Indian researchers, the bonds have become even stronger.
Researchers from both India and Japan have maintained their lines of communication even after the project was completed. It is expected that the results gained from past work and the newly completed research wing could further promote such research activities to improve India's public sanitation and to contribute greatly to the public welfare.