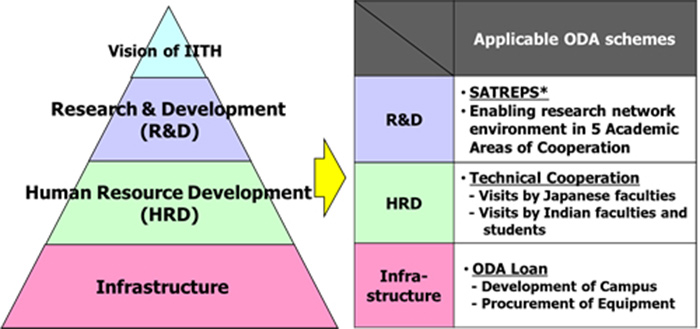 JICA is extending integrated support programme to newly-established Indian Institute of Technology, Hyderabad (IIT-H) for its campus development through ODA loan, joint research collaboration, and academic exchanges through technical cooperation. This special programme for collaboration with IIT-H aims at developing research network between IIT-H and higher educational institutions/industrial clusters of Japan through which firm partnership between India and Japan is built in a long run.
Programme Summary
As shown in the conceptual diagram above, the programme offers comprehensive assistance in research and development, human resource development and improvements in infrastructure with three modalities of Official Development Assistance (ODA) scheme namely SATREPS, technical cooperation, and ODA loans.
For research and development, JICA supports to make enabling research network environment between IITH and Japan in 5 Academic Areas of Cooperation. As a result, a joint research through SATREPS named "The Project for Information Network for Natural Disaster Mitigation and Recovery in India (DISANET)" has been already going on. For human resource development, a technical cooperation project named "the Project for Future Researchers at IIT-H to Enhance Network Development with Scholarship of Japan (FRIENDSHIP project)" is also under implementation. FRIENDSHIP project promotes various forms of academic/research exchanges. Currently, the project offers scholarship programme for IIT-H graduates to study for PhD and Master degrees in Japanese universities. Furthermore, the Government of India allocated a plot of land in the suburbs of Hyderabad city and requested the Government of Japan to provide Japanese ODA loans to develop a part of campus buildings which symbolize partnership between India and Japan. To facilitate the design of those requested buildings, a technical cooperation project named "Campus Design Project for IIT-H through Academic Exchange and Interdisciplinary Collaboration" is going on.
The Government of Japan established the IIT-H consortium of Japan coordinated by Ministry of Foreign Affairs, Japan. The consortium is the umbrella organization consists of Japanese stakeholders from government, academia, and industry aiming at promoting collaboration with IIT-H. JICA, as a Japanese ODA Executing Agency, participates in the consortium and ensure that our activities in coordination with other partners in Japan contributed to assistance for IIT-H by all actors in Japan.